Books
Two books on the history of this parish have been published. We are working on placing them back online.
The first Our Lady of Mount Carmel and St George A Parish History
was written by Herbert Vaughan and published in 1992.
The second Living Stones was published to commemorate the 40th Anniversary of
the Consecration of the Parish Church in July 2007.
---
Events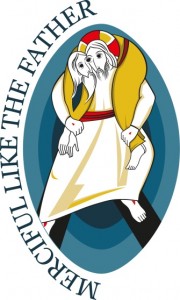 YEAR OF MERCY
8 December 2015 ~ 20 November 2016
In 2015 Pope Francis announced a Holy Year of Mercy as an opportunity to reflect upon different aspects of mercy.
Our parish was been chosen to have a Deanery Door of Mercy which opened on Sunday 13th December 2015.
---
Priests Who Have Served Enfield Parish
List taken from the first appendix of the Living Stones book and updated.
Priests In Charge
From Waltham Cross
1863-1864: Fr George Bampfield
1864-1866: Fr John Shepherd
1866-1867: Fr Maurice Power
1867-1871: Fr David Hickey
1871-1873: Fr Thomas Regan
1873-1875: Fr Reginald Tuke
1875-1890: Fr Edward Bronsgeest
From St Joseph's Home, Holtwhites Hill
1890-1892: Fr J. Gavin
1892-1900: Fr Edward Murphy
Resident Parish Priests
1900: Fr Hugh O'Rourke
1900-1905: Fr Ambrose O'Gorman
(Fr Adrian Fortescue as locum during Fr O'Gorman's absence in Rome on a doctorate course)
1905-1906: Fr George Cox
1906-1908: Fr James Hazell
1908-1910: Fr Thomas Adkins
1910-1944: Fr Denis Tuohy
1944-1948: Fr William Wall
1948-1950: Canon John Marriott
1950-1976: Canon Denis O'Sullivan
1976-1981: Canon Herbert Veal
1981-1992: Fr Francis Wahle
(Fr Anton Cowan as Administrator during interregnum)
1993-2001: Fr John Arnold
2001-2003: Fr Gabriel Zsidi
2003-2011: Fr Richard Andrew
2011-2020: Fr Slawomir Witon
2020-present: Fr Daniel Humphreys
Assistant Priests
1937-1945: Fr Anthony McDonald
1941-1942: Fr Sydney Moss
1946: Fr Harry Dodd
1946: Fr Gerard Barry
1946-1947: Fr Raymund Geraerts
1947-1955: Fr Stephen Finnegan
1955-1957: Fr Peter Jones
1957-1962: Fr John O'Halloran
1962-1966: Fr Frank Morrall
1966-1976: Fr Brian Reynolds
1976: Fr John Harper-Hill
1976-1981: Fr John Byrne
1981-1983: Fr Ralph Eastwell S.J.
1982-1985: Fr John Buckley
1983-1986: Fr Marcus Winter
1985-1990: Fr Gerard Joyce
1986-1989: Fr William Wilby
1987-1991: Fr Ralph Eastwell S.J.
1990: Fr James Wooloughan
1990-1993: Fr James Loughnane
1991-1993: Fr Dominic Byrne
1994-1999: Fr John Dermody
1996: Fr Charis Piccolomini
1999-2002: Fr Philip Miller
2000-2003: Fr John Hai Pham
2002-2005: Fr Kevin Jordan
2005-2007: Fr Gerard Skinner
2007-2010: Fr Paul Luong
2007-2009: Fr Jim Byrne
2007-2008: Fr Georgios Ntagkas
2009-2013: Fr Robert Pachuta
2010-2011: Fr Jacques Otieno
2011-2014: Fr Andrew Connick
2013-2015: Fr Jeffrey Downie
2014-2016: Fr Graham Stokes
2015-2016: Fr Cyril Chiaha
2016-2017: Fr Tom Montgomery
2016-2021: Fr Chinedu Udo
2021-2023: Fr Timothy Mangatal
2022-2023: Fr Vincent Nnatuanya CSSp
2023-present: Fr Patrick van der Vorst