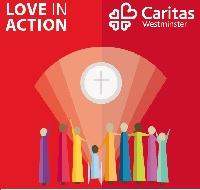 Love in Action will help our parish to celebrate the way we are living our faith in the world, and to discover new ways that we can bring Christ's love to our community.
Over six weeks we will explore the six guiding principles of Catholic social action, which all flow from God's creation of us, and his continuing relationship with us:
Heavenly Father, help us to see with your eyes, to judge with the loving heart of your Son, Jesus Christ, and through your Spirit to put love into action. Amen
Dates for your diary:
We will then have the opportunity to explore further and to help develop a parish plan for our social action.
Love in Action Workshop: Friday 21 April (1.15-2.45pm) or (7.30-9.00pm) in the Challoner room, Presbytery
Monday 24 April (7.30-9.00pm) in Our Lady of Walsingham, Holtwhites Hill
Creating our Love in Action Parish Plan: Sunday 21 May (3.00-5.30pm) in the Parish Centre
"It is not enough to say we are Christians. We must live the faith, not only with our words, but with our actions." Pope Francis