"The important aim in Christian meditati

on is to allow God's mysterious and silent presence within us to become more and more not only a reality but the reality which gives meaning, shape and purpose to everything we do, everything we are"  John Main OSB.
Meeting Details
The group meets on Mondays, except Bank Holidays, at 8.15 pm.  Please come to the presbytery front door (Our Lady of Mount Carmel & St George, London Road, Enfield EN2 6DS) and ring the day bell.  Although we meet on Catholic premises, the group was founded ecumenically, and all Christians are most welcome.  No worries if you have never meditated before, newcomers are always welcome and we will explain how we meditate at any meeting.
The group offers a chance to discover this ancient form of prayer and to support each other who feel called to practice it. We follow the practice of the World Community for Christian Meditation, WCCM www.christianmeditation.org.uk founded by John Main OSB of which Laurence Freedman OSB is the Director.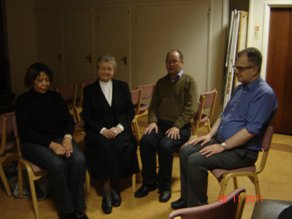 We start by playing some music to set the mood, then listen to a talk on a CD from the World Community of Christian Meditation, remind ourselves of the practice of meditation, then the central part of our meeting, have 20 minutes or so silent meditation followed by reading the previous Sunday's Gospel. Afterwards there is an opportunity to share if one wishes on the talk, the practice of meditation or the Gospel. We finish by 9.30 pm.
The Practice – How to Meditate
Sit down. Sit still and upright. Close your eyes lightly. Sit relaxed but alert. Silently, interiorly begin to say a single word. We recommend the prayer-phrase, 'Maranatha'. Recite it as four syllables of equal length. Listen to it as you say it, gently but continuously. Do not think or imagine anything-spiritual or otherwise. If thoughts and images come, these are distractions at the time of meditation, so keep returning to simply saying the word. Meditate each morning and evening for between twenty and thirty minutes.
A prayer before meditation:
Heavenly Father, open our hearts to the silent presence of the spirit of your Son. Lead us into that mysterious silence where your love is revealed to all who call Maranatha……Come, Lord Jesus. Amen.
Group History
Fr Richard Andrew (the then Parish priest of OLSG) was consulting me about what the Catholic contribution could be for the Local Ecumenical Partnership Lent Groups for 2010 having had a suggestion from the chair about different types of Meditation, so I offered to arrange an Introduction to Christian Meditation. Fortunately the area coordinator Rev'd Graeme Watson was able to join and support us for every Monday that Lent, a small nucleus was formed and with the exception of Bank Holidays and a very occasional Monday, when there was something special at OLSG, the group has met ever since.  For Lent 2012 we were asked by Frs. Slawomir Witon and Andrew Connick if we would host another LEP Group which we duly did supported again by Rev'd Graeme Watson and also Liz Watson who had recently retired as WCCM National Coordinator.  From that course our small nucleus has grown, normally each week we are at least four but sometimes 8 to 10.  Some find it helpful to come weekly others come occasionally when they can.
Malcolm Green – cmenf [at] talktalk [dot] net