Back in 1961 a group of Mums met each day at the school gates when dropping off their children at St George's RC Primary School. An invitation to meet for coffee lit the spark of what would become an active organisation within the parish of Our Lady of Mount Carmel & Saint George here in Enfield. This small group calling itself the Young Wives Club soon became very active within the parish. It organised itself to have a President, Secretary and Treasurer and meets on the 1st and 3rd Thursday of each month.
Guest speakers are invited and the range of topics can vary widely. The year is divided into two 'terms' with a programme of events and each term ends with a 'Tasty Bit' when members bring food for a shared supper to which the Parish's clergy are invited.
January to July 2018
| | | |
| --- | --- | --- |
| Jan | 4th | Opening Quiz |
| | 18th | Brenda Brown – Kew |
| Feb | 1st | Chris Truran |
| | 15th | Agatha Christie |
| Mar | 1st | Bring and Buy |
| | 15th | David Cockle – Enfield Trains |
| Apr | 5th | Nightingale Update |
| | 19th | Stephen Gilburt – Confessions of a very civil servant |
| May | 3rd | John Lombard – Jewellery |
| | 17th | Tea Party and Music |
| Jun | 7th | Noah's Ark Update |
| | 21st | Enfield Over 50s Forum |
| Jul | 5th | Gordon Giles – Stories from St Paul's |
| | 19th | Tasty Bits |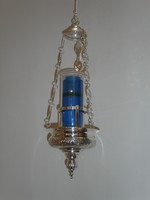 In 2011 the Mount Carmel Ladies Group celebrated its 50th anniversary. To mark the occasion the Ladies have donated a lamp (pictured right) for Our Lady's Shrine in the church in memory of deceased members.
It is not just a social group, the Ladies Group organises various catering arrangements throughout the year, e.g. a welcome or farewell party when there is a change of clergy and the Group is particularly committed to the Patronal feast days which are now held on a "Bring and Share" basis which involves dedication to planning, organising and ensuring adequate food is provided.
The Group also regularly makes charitable donations to the local community, raising money through the weekly subscription and also through a weekly raffle. The raffle is known as "The Val McLaughlin Fund for Cancer relief" in honour of Val, a much-loved member of the group who died of cancer at a very young age. Donations during 2014 have so far been made to the following charities:
• £500 to the North London Hospice, specifically to buy a wall clock for each patient's room.
• £500 to the Noah's Ark Children's Hospice, which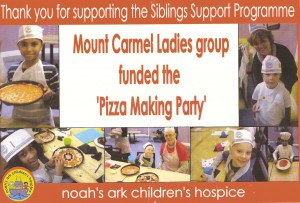 helped pay for a pizza making party where a group of patients' siblings aged 6-10 years gathered at Pizza Express in Southgate for a much-needed fun day out .
• £250 to the Motor Neurone Disease Association. Our donation will be used to improve care and support for people with MND, their families and carers across England and Wales. It will also help fund and promote research, to campaign and raise awareness so that the needs of those affected by the disease are addressed by a wider society.
• £250 to the Guide Dogs for the Blind.
• £150 to the Enfield Talking Newspaper. Our donation enables the ETN to continue to provide a free service and continue with plans to provide a digital service for those listeners who would like it.
• £269.35 to CAFOD. This was raised in a collection and raffle held after a talk given in the Parish Centre by Bishop John Arnold. All donations to CAFOD help to support their partners in over 40 countries around the world to overcome poverty and injustice, especially the many for whom the scandal of hunger is a daily reality.
Apart from social events, the group also provides a warm welcome to new parishioners as well as providing a supportive role of fellowship to parishioners who suddenly find themselves alone, perhaps through bereavement.
The group also has outings, perhaps a meal at a local restaurant, a coach trip through the streets of London at Christmas time to see the festive lights and have been on several coach trips, e.g. Constable country, Oxford, the churches of Essex and many more. There is also a spiritual element to the group, with an annual Retreat or Day of Recollection.
After 50 years, the group is now known as the Mount Carmel Ladies Group, a thriving active group, one of the largest groups of its kind within the Diocese of Westminster.  New members are very welcome to join us.